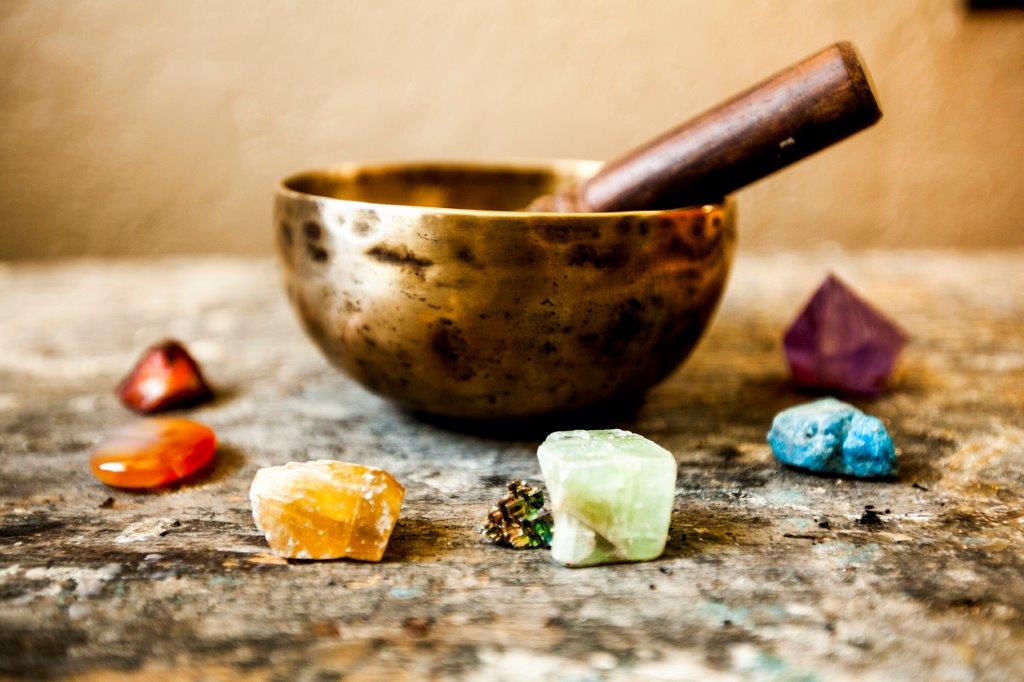 Which Healing Crystals Are For You?
Want to keep cool in a crisis, or perhaps you need an energy boost? Healing crystals can turn the volume up or down on personality traits, feelings or thoughts. This is because natural earth-grown crystals, from inexpensive quartz to megabucks diamonds, each vibrate with their own unique energy frequencies. The energy of the crystal can have a positive impact on your energy field - relaxing or activating it. Your star sign reveals personality traits you want to enhance as well as those you want to tone down. So pairing you with your star sign crystal can boost your good aspects while decreasing your negative ones. Check your horoscope below, then pop a chunk of your star sign crystal into your pocket or on your work desk to benefit from it.
Aries
March 21 - April 19
Citrine - Diamond - Rose Quartz
The intense fire of diamond matches your decisive, strong nature but its sparkling lustre calms and dissipates your quick temper. When you're on a mission, nobody better stand in your way but the gentler energy of citrine reminds you to think before you act and to consider other's feelings first. It also helps you to get in touch with your intuition. As a lover you are passionate but rose quartz will help bring out a gentler, more romantic side of you.
Taurus
April 20 - May 20
Carnelian - Selenite
Steady and strong, you are loyal and dependable. But sometimes you feel sapped of energy. Try using carnelian to give you an extra hit of vitality, when you feel your creative strength beginning to wane. It will boost your lower chakras enhancing confidence and romance prospects. You have a tendency towards materialism, so refocus your attention on your spiritual side with high vibration selenite, which can open your crown chakra and help you link with angelic powers.
Gemini
May 21 - June 20
Tanzanite - Citrine - Apophyllite
A free spirit, you enjoy rushing around at the heart of the action. The trouble is this can leave you exhausted with pent up nervous energy. Citrine will help dissipate this tension. Tanzanite releases healing spiritual energy into your life with its violet flame colour. Truth stone apophyllite will remind you not to twist the facts as Gemini has a tendency to do!
Cancer
June 21 - July 22
Moonstone - Ruby
You are a highly nurturing sign who is most relaxed in a small family or friendship circle. Step out of your comfort zone with the energy boost and confidence the energy of a ruby crystal will give you. Moonstone is your natural companion, with its intense flashes of fire deep within the stone and also many layers of colour. It will bring your emotions into balance and keep you in touch with your potentially very strong psychic powers.
Leo
July 23 - August 22
Tiger's Eye - Amber
A big and bold character you love to be the centre of attention at all times. But underneath your merry exterior can be a hidden tendency to sadness, even depression. Use amber to gently lift your emotions, helping you to see the goodness in life. Tiger's eye is also a good match for the feline of the zodiac. It enhances prosperity and good fortune, while keeping your feet firmly on the ground.
Virgo
August 23- September 22
Amazonite - Garnet
A quiet perfectionist, amazonite will open up new channels of communication for you to achieve your goals by collaborating with others. It will also dissipate any negativity around you. The wonderful deep red of garnet will ground you, making fears disappear and helping you to see there's no need to control every aspect of your life. The need to control is based on fear. Release your fear with garnet.
Libra
September 23 - October 22
Amethyst - Morganite
Your skill for diplomacy can make you a good leader although you are often too laid back to take charge when it's time to make a decision. Carry an amethyst to develop the wisdom to be more decisive and to have faith in your abilities. You love to be in love, so the petal pink energy of morganite will help your romance to grow stronger.
Scorpio
October 23 - November 21
Labradorite - Peridot
You are drawn to the metaphysical and areas of spiritual exploration, so labradorite will enhance your psychic pursuits, while protecting you from harm. Peridot provides a cheery bright boost for Scorpios, who can tend to be a little too intense or moody at times. Peridot can also connect you to higher realms during meditation.
Sagittarius
November 22 - December 21
Turquoise - Amethyst
In your search for the meaning of life stop for a second to put a piece of turquoise in your pocket. Because this stone will help you communicate more easily with others and will guide you towards new experiences, while also protecting you. Amethyst will calm your restless nature and will protect you from envious people.
Capricorn
December 22 - January 19
Fluorite - Peridot
You value careful planning and thought in all matters, fluorite will enhance your cognitive powers and help you make the best decisions for you. Peridot will bring a sprinkle of joy to your often sombre sign. It will help you discover that great sense of humour that is hiding under your serious exterior. It will also connect you to your spiritual side.
Aquarius
January 20 - February 18
Hematite - Amber
Always seeking out the next exciting idea, you have bags of energy which can sometimes become unbalanced. Use hematite to keep you grounded and to help you turn ideas into reality. You naturally work on a psychic level, so protect yourself with an amber gemstone, which will also keep your mind filled with positive thoughts.
Pisces
February 19 - March 20
Lapis Lazuli - Turquoise
Your mind floats from one thought to the next without pause, and you slip between physical and psychic levels easily. Use lapis lazuli to clear your head and turn your jumble of thoughts into a concise plan. Turquoise protects you both physically and in your spiritual explorations.